THE INJECTION AND RETURN RIG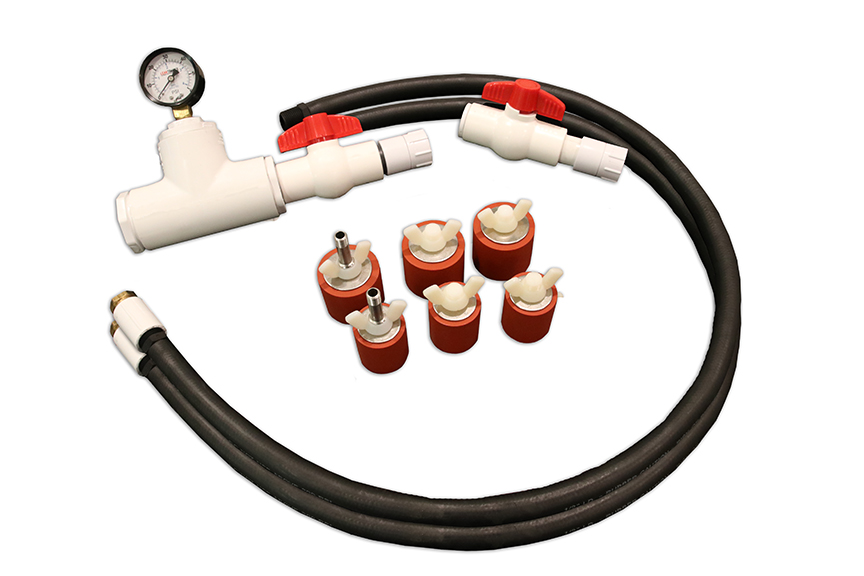 Used to apply PipeFuze Solution when you have your own pump, barrel and hoses.
Injection Rig with 1 Pressure Gauge
Return Rig with Shut-off Valve
(2) Connection Hoses
One (1) 1.5 Inch Injection Plug
One (1) 2 Inch Injection Plug
Two (2) 1.5 Inch Compression Plugs
Two (2) 2 Inch Compression Plugs
The Injection and Return Rig Kit is intended for regularly repetitive residential use. It is helpful for homeowners and contractors who already own a pump and the other items required to properly use PipeFuze Liquids, but simply need the Injection and Return Rig to do the job.
If you are supplying your clients with a solution to leaks on a regular basis, an alternative consideration is the The Contractor Kit. The Contractor Kit comes with a large pump, heavier and more durable hoses for repetitive uses and the Contractor Kit includes three pressure gauges for multiple uses.
The Contractor Kit also comes standard with 5 pairings of:
– PipeFuze A – Polymer Filler
– PipeFuze B – Catalyst Hardener
For the contractor that does various residential jobs, this kit is applicable to uses including swimming pools, irrigation, home radiant flooring systems and non-potable residential type applications. Refills are as easy as clicking online and ordering refill kits. (This is a separate purchase from the above mentioned Injection Rig).