FOR LEAKS OUTSIDE OF PIPES – LEAKSHOT SEALANT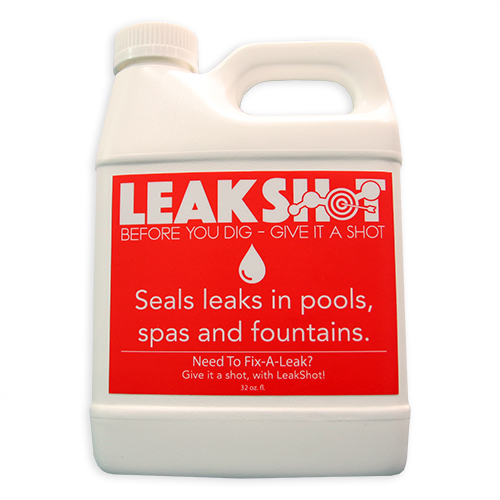 LeakShot is a fast-acting leak sealant applicable to all types of leaks in non-potable water bearing vessels. LeakShot packs the power to seal leaks in a variety of situations in just 24 hours! For leaks that are causing a water loss of up to an inch a day, you won't need to drain a drop. Just pour in LeakShot, and your leaks can go away in just a day.
LeakShot is applicable to:
Cement Swimming Pools
Fiberglass Swimming Pools
Vinyl Liner Swimming Pools
Gunite Swimming Pools
In-Ground or Portable Spas
Cedar Hot Tubs
Ponds
Water Features
Polythylene Liners
… and so much more!
"We have a big oval vinyl pool, we've had it for a number of years and the metal around it's great so we want to keep it as long as we can. The issues we have are that sometimes it loses more water than it should. I'm not blaming the dog, (though it makes sense) but it seems sometimes little holes find their way into the liner. When it first happened, we poured in a bottle of LeakShot and where we normally saw water loss by weeks end – it just didn't drop. Now, just for safety sake, we add a bottle every month to make sure if the dog makes a hole in the liner, we don't have any water loss at all."
Kane Biden ~ Corbin, KY
LeakShot Features:
– It Can Seal Leaks In Just 24 Hours
– There Is No Need To Drain Pool Water – Just Pour And Go!
– LeakShot Seals Minor Leaks In All Types of Water Bearing Vessels.
– Spa Or Hot Tub Leaks? No Problem. Just Give It A Shot!
– Powerful Enough For Industrial Use
– So Easy, Anyone Can Use It
LeakShot is a solution used for sealing leaks that don't require structural repair. This includes a variety of applications including pools, spas, ponds, fountains and more. LeakShot adheres to the leaking substance and cures to form a tough and long-lasting seal. Leaks pouring through spaces as wide as 1/8th of an inch (3 mm) in diameter will allow our sealant to coagulate and form a seal.
Typical pools (Fiberglass, Gunite, Cement, Vinyl, etc.) should use a full bottle (32 oz./1 quart) to ensure a seal. This serves as much as 22,000 gallons of water. Larger pools should use increased application for a more positive effect. It's recommended to use 4 oz. (250 ml) for each 250 gallons of water.
Pools and basins that lose an average of 1/4 inch and up to a maximum of 2 inches of water per day are prime candidates for using Leakshot. Larger water losses may reveal a broken pipe, large structural crack or faulty equipment that simply can't be sealed with a liquid sealant. If this is your case, seek a professional leak detection specialist and prepare for the expense of digging to find your leak.
LeakShot has been proven to work in all weather conditions. With extensive testing and years of proven use, Leakshot leads the industry in the leak sealant market. With a price that is a fraction of ripping up cement and draining your water, it only makes sense to take a shot with Leakshot before reaching for a shovel. Your wallet will appreciate it.
Purchase Options:
1 – 32oz. Bottle: $68.20
2-Pack of 32oz. Bottles: $104.50
3-Pack of 32oz. Bottles: $138.60
PLACES WHERE LEAKSHOT WORKS