THE PIPEFUZE HOMEOWNER KIT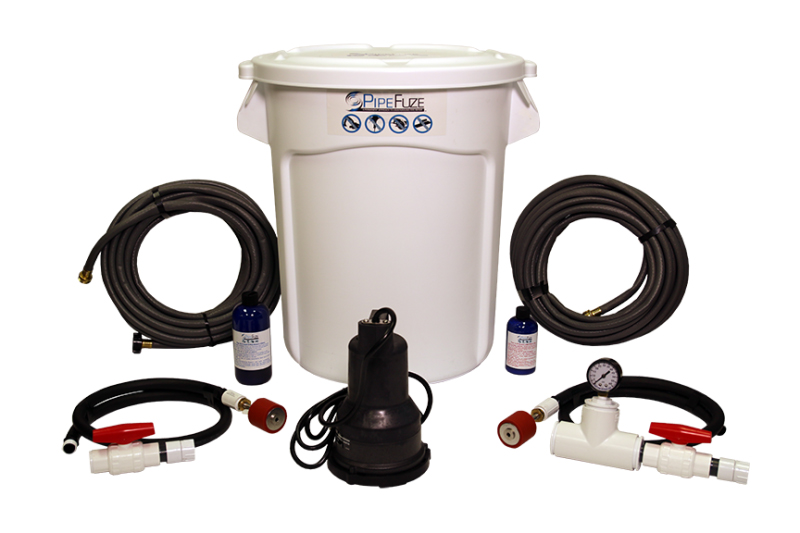 Homeowner Kit from PipeFuze is a polymer-based underground pipe repair injection system that was designed to repair plumbing (suction or pressure side) lines without having to cut the concrete, and asphalt or dig up the line.
Works from ½ inch lines to 2 ½ inch lines.
Small pump (1/6 hp)
Hoses (Supply & Return)
Injection Rig with 1 Pressure Gauge
Return Rig
PipeFuze Components (Enough for 2 uses)

Part A – Polymer and Filler (2 – 8oz)
Part B – Catalyst Hardener (2 – 16oz)

20-gallon bin for mixing
Instruction Manual
Price: $984.50
"I must say that I love your system. It is so simple to use that pressure testing is now a standard procedure I use during pool opening and closing. I appreciate your prompt and thoughtful customer service which was a big help when I was learning to use the equipment. This year I learned I had an additional leak between my filter and heater. So I am taking care of that."
PipeFuze Homeowner Kit User, New York
Power Requirements for the pump included in the Homeowner Kit, Be aware that you may need a converter outside of the US:
Horse Power = 1/6 HP  
Electrical Rating = 120 VAC / 60Hz / 264w = 2.2A 
Are you a DIY type that can take the situation in to his/her own hands? The Homeowner Kit is made for the homeowner that knows they have a leak and simply can't find someone who can let them know what it is and what it might cost to repair it without a hassle.
If you know there's a leak and it falls under the category of "fixable with PipeFuze" (see our verification video) than this is the kit you need. Geared for residential use, the kit comes with a single use pairing of:
PipeFuze A – Polymer Filler
PipeFuze B – Catalyst Hardener.
What's better is, after you clean and store your equipment, just order a new set of liquids when you want to use it again. The kit will always be there for your next leak repair.